This is a sponsored post written by me on behalf of ZYRTEC®.
I don't often talk about things like allergies here on the blog, but they are something that I deal with on the daily. Some people maybe deal with allergies during Spring and Fall, but lucky lady that I am, I suffer from allergies year round. That means red eyes, itchy nose and throat, sneezing, and major ALLERGY FACE® pretty much 24/7. Sounds pleasant, right? UGH.
Indoor and outdoor allergens both plague me. Pollen? Yep. Weeds? Yep. Pet dander? A lot of 'em! Dust? How did you know?! Without taking an antihistamine, I can feel pretty miserable.
I've tried many allergy products over the years, but for the past year I have been a die-hard ZYRTEC® fan. It's the only product that has helped relieve my allergy symptoms quickly (within one hour of taking it!) and effectively. It provides 24 hour relief so that I can still enjoy my daily outdoor walks with Layla, snuggle up with my puppies, and keep fresh flowers around the house without worry. I can't tell you what a relief it is!
Now when it comes to combating ALLERGY FACE®, I really enjoyed reading the great tips Jamie Greenberg, a celebrity makeup artist, created for allergy sufferers. If you're dealing with watery eyes, puffiness, or red nose, you will love them too!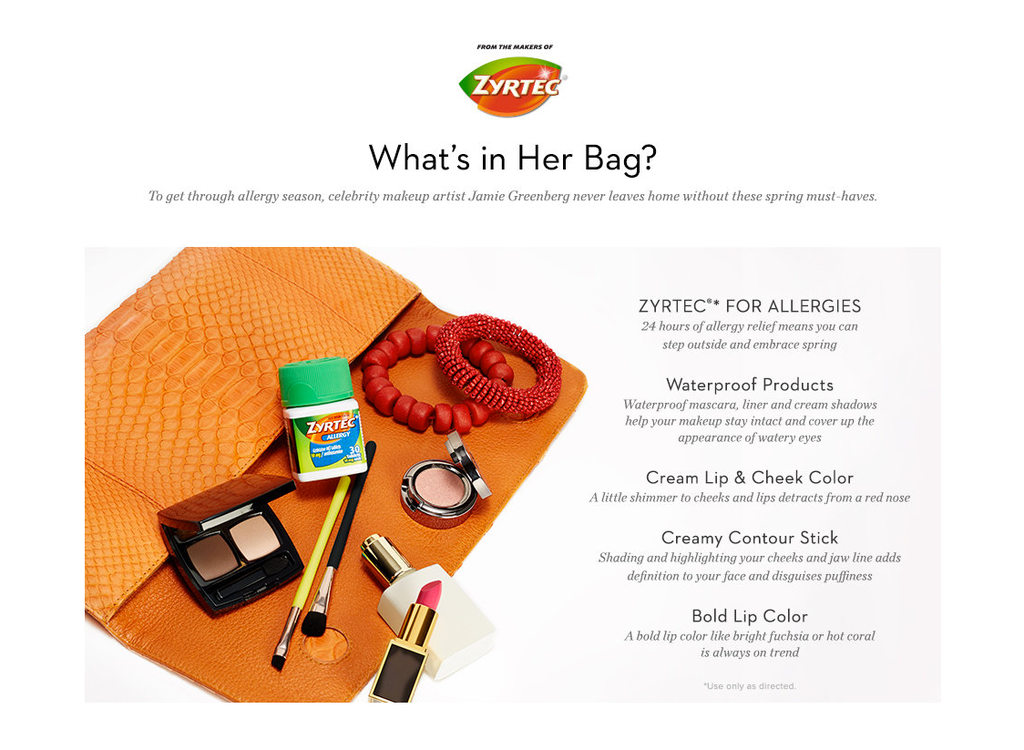 I completely agree with her recommendation for waterproof mascara and her advice to stay away from fiber mascaras than can further irritate already sensitive eyes. A little contouring does wonders for puffiness, and I'm always for a bright, fun lip color! I'm most looking forward to trying green concealer, which Jamie recommends for concealing redness. Rudloph nose, be gone! 😉
I'd love to hear your experiences with allergies. How do you deal with them? Do you have any tips or tricks for looking your best when suffering from all of those lovely symptoms?
This post was created in partnership with ZYRTEC®, but all opinions are my own.